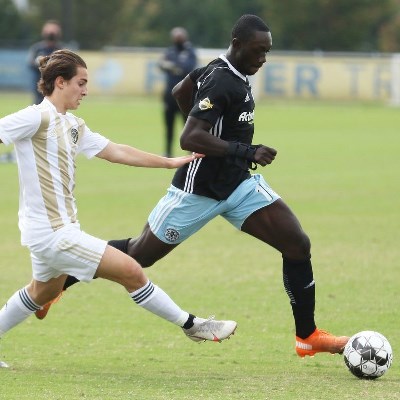 With a weekend off from league play and no Generation adidas Cup this year, the Union U17s hosted West Chester United for a friendly
By Matthew Ralph @MattRalph_tBG  Oct 14, 2020, 1:37pm EDT
In non-pandemic times, the Power Training Complex would normally be hosting Generation adidas Cup qualifiers over the holiday weekend but the Philadelphia Union U17 game on Saturday had a much different purpose.
In a friendly against West Chester United, a Union U17 team unbeaten in the early going of the MLS Next season (3-0-0) had the challenge of facing a more experienced group of mostly college-age players.
Early on the difference in age didn't seem to phase the Union U17s as they came out playing their style and forcing the issue creating a number of chances with their pressing style. Anthony Ramirez picked off a pass off a deep throw in and laid it off in the box to Gael Medrano, who weaved his way through a pair of defenders and put the hosts up 1-0 early.
Ramirez had another great pass in transition to set up Nelson Pierre minutes later, but Nelson Pierre was denied by the goalkeeper to keep it 1-0. The Union continued to create a number of chances but it was West Chester that went into the break with the 2-1 lead after Spencer Burkhardt's long free kick found its way in the back of the net and a deflected cross fell to a wide open Chris Donovan in the box for the finish.
West Chester made it 3-1 after some combination play between Donovan and Sam Brown led to a ball from Ayo George that found Ryan Kingsford at the far post for a left footed finish.
To read the full story: https://www.brotherlygame.com/2020/10/14/21513393/philadelphia-union-u17s-challenge-themselves-in-friendly-with-west-chester-united