Blaise Santangelo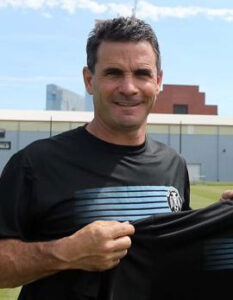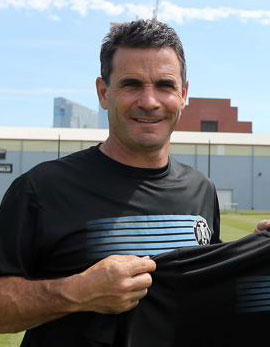 Blaise started his career at WCUSC as an over 30 player in 2007. After four seasons he did double duty as an O-30 & Open team player for 3 more seasons. In 2014 Blaise took over coaching duties for the Men's Program as the Head Coach and Director of Soccer Operations.
In 2015 he led the WCUSC Men's Open Team to its first NATIONAL Championship (USASA Werner Fricker Open Cup/RWD Adria). Blaise was named the 2015 USASA Region 1 "Coach of the Year". As a head coach of the Men's Open Team he has won multiple Regional, State Cup, and Local League titles (see Trophy Case).
In 2016 he would lead WCUSC to its first US Open Lamar Hunt Cup completion (2nd Round/Harrisburg City Islanders) returning again in 2019 (2nd Round/Birmingham Legion) & 2020.
In 2018, Blaise would lead a revamped Men's Open Squad Back to a National Amateur Cup Final Four where WCUSC would fall to Milwaukee Bavarians. Thus, collecting the NATIONAL 'FINALIST' trophy & 2nd place.
In 2017 Blaise, looking to bring the club into the highest of competitions; led team management, proposed to the board, and was granted a franchise in the National Premier Soccer League/NPSL.
In 2020 Blaise was able again to step WCUSC into its second top National League. This time the USL2 (formally PDL).
Blaise is a big believer in developing top-level U-23 Program players who train and compete in multiple leagues and competitions in the summer. His U-23 Program annually boasts +100 players. These players enjoy top training and "a love for the game" as the program focuses on "enjoyment, camaraderie, and responsibility" in preparation for their college fall seasons or professional play!
His players use the national leagues, as well as, the USASA Region 1 /U-23 annual tournament as a guide to their progress. Since 2016, WC U-23's has claimed Region 1 Champions 3 of 4 years. In 2019, we entered two teams, and both made the finals.
Blaise's strongest strength is his undying efforts to help his players become wonderful young men in society. His goal is to help them reach the professional ranks as players or helping them get jobs in post-college graduation.
Blaise reluctantly employs himself at Blaise Santangelo Design, a landscape architecture firm, where you'll usually find him on a skid loader talking about soccer.
Blaise played his college soccer at Elizabethtown College. Blaise is married and has five children.
Head Coach of WC Predators teams:
US OPEN CUP
USL2
NPSL
USL of PA (Majors)
USL of PA (Majors II)
NESL
U23